Agent Cooper's Favorite Cherry Pie
2014-07-22 Tuesday
Photo By Christaface
Recently, I started trying to watch movies without English subtitles. Having seen it once before in Japan, I'm rewatching David Lynch's Twin Peaks these days. I really love this TV series. For a long time, I have been longing for the coffee, donuts and cherry pie which Agent Cooper ate.
FBI Special Agent Dale Cooper is one of the main characters of Twin Peaks. He is a little eccentric man who loves nature, Tibetan thought, coffee and cherry pie. Always having a microcassette recorder, he records everything in the spoken word what he has observed along with the investigation. When he takes a sip of coffee, after a pause, he smiles and says "Damn, good coffee!". I love his this reaction. This sounds very charming.
At Double R Diner, he finds their cherry pie really good. Here is one of my favorite scene at the diner. After ordering coffee and pie to the beautiful owner, Norma, Agent Cooper says "How long you been in love with Norma?" to Ed, who is secretly in a relationship with the owner. It surprises him very much. Agent Cooper is excellent at people-watching.
I hope someday I go to Twede's Cafe near Seattle, which was used as a location for the Double R Diner. However, for the time being I'd better to try to make a cherry pie by myself. I found this recipe, "Agent Cooper's Favorite Cherry Pie", which looks very tasty. I will try this before long!
---
---
---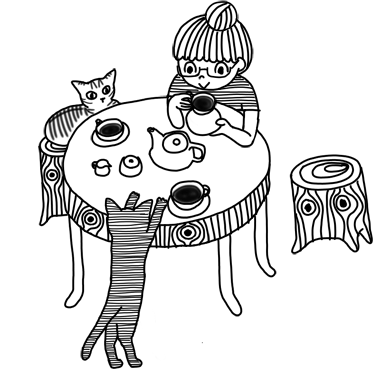 Author
Yuko Honda Morita (yukop) : yukop.com
飯能→東京→シリコンバレー。夫と猫2匹と暮らしてます。作ったり学んだり踊ったりするのが好き。
Born in Japan, living in California with my husband and two cats. "A bit of a geek and a bit of a geek fan and a bit of an artist." ->
Latest Posts
Japanese
English