Halloween Decorations
2014-10-18 Saturday
How do you decorate your house for Halloween?
While I was going for an evening walk the other day, I ran into a strange house. It looked spooky and abandoned. There was kind of soft mesh net over garden trees, a porch, and here and there. Moreover, there was a small handwritten signboard in the garden that said "RIP".
I thought, "RIP stands for Rest In Peace, right? What's happened to this house?", and I suddenly got scared Sand ran away. At a later date I heard that it might be a Halloween decoration from a friend. I went to see the house again in daytime. Now that I looked closer, there was a large black furry spider toy in a casket, and the signboard also said "Haunted House". It sure fooled me!
Afterwards, I came to enjoy going for a walk to look for Halloween decorations. I especially love furry spiders, but I don't want to see skeletons around my neighborhood at night.:P
---
---
---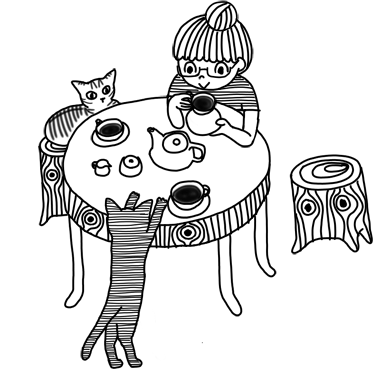 Author
Yuko Honda Morita (yukop) : yukop.com
飯能→東京→シリコンバレー。夫と猫2匹と暮らしてます。作ったり学んだり踊ったりするのが好き。
Born in Japan, living in California with my husband and two cats. "A bit of a geek and a bit of a geek fan and a bit of an artist." ->
Latest Posts
Japanese
English